Good Day guys!
its been a while..but valentines day is a great day to be back!
i've been busy lately.. but am going to try and post a little more often :) [how many attempts has it been? LOL]
well i felt extra crafty yesterday and did some homemade valentines day go0dies..valentines day is as good as you want it to be. why not celebrate your love for whoever a little extra than the usual on this special day? i don't want to pass over on such a potentially cute day! :)

i decided to make a cute valentines day tree..


with little dangly heart ornaments... :) simple. nature..hearts..def. eye pleasing :)
i started off collecting some TWIGS from my backyard......gathered some white and red paint.....and got to work! [you'll also need some construction paper to cut out hearts..and red string] and a little vase...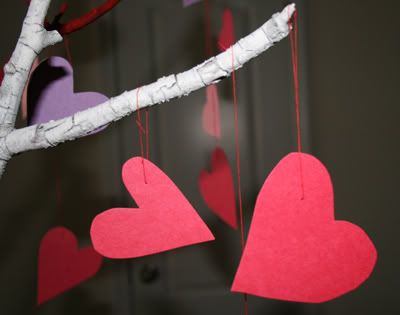 you can add a matching candle as a touch...i also used shredded [junkmail] as a filling :);)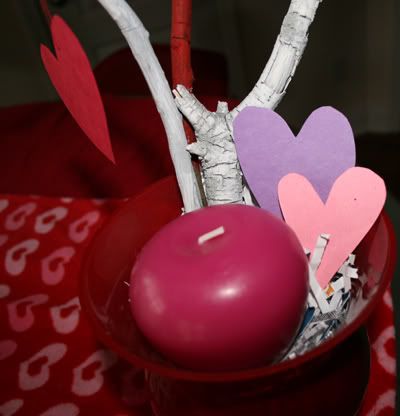 --
i also was in a baking mood after seeing this idea from morgan moore ..and decided to make these simple delights: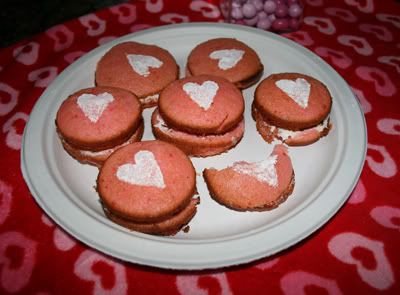 i changed the recipe a little bit to my taste..
ingredients:
- 1 Pillsbury Moist Supreme Strawberry Cake mix
- 1/2 cup Canola Oil
- 2 Eggs
- 1 TSP Vanilla
- 1 TBS Condensed Milk

mix all that together... and put tablespoons into a cookie sheet [or you can use the cupcake pan..just only put the 1 tablespoon]
@ 350F for about 10 mins...

- Some Pillsbury Creamy Supreme Cream Cheese Frosting
- Powdered Sugar
- Paper
- Exacto-Knife

when they are done and a bit cooled.. you will make them into sandwiches.. spread a little of the cream cheese frosting on one of the 'cookies' and place another one on top... On a piece of paper attempt to draw a little heart.. and cut it out with the exacto knife.. making it into a stencil..then put it on top of your 'cookie sandwich' and sprinkle some of the yummy powdered sugar on it..



these little guys are delicious - and uber easy to make!

....and finally...the home-made card!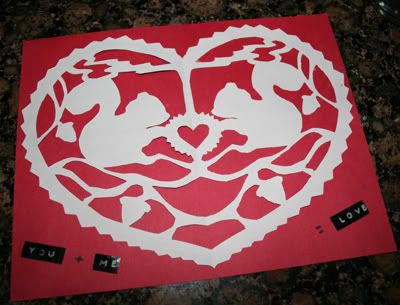 beautiful..fun..and you can make one too! check out little acorn's post :)

also..don't forget to cut your napkins [and any food you can get away with] into heart shapes! + set the table red and festive :)



my hubby was definitely surprised and cheerful after seeing all the cute goodies..
i hope you all have a beautiful <3 day :)